Cruises and Sightseeing Boat Tours in Dubai
Dubai sightseeing is unimaginable without a boat tour! Cruising on a yacht allows you to get impeccable views of the most famous monuments of the Arab Emirates and enjoy fresh air in the middle of the desert.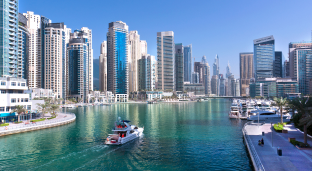 Sightseeing Tours include
When choosing a Dubai sightseeing cruise on a yacht, you should consider the tour to find an option that will cover the best of the skyline. We offer Dubai guided Sightseeing Boat Tours for top famous destinations and the best beautiful sights.

Dubai Marina Yacht Tour
Guided sightseeing tours are the perfect way to see the luxury beaches and expensive yachts and take lots of trendy summer photos. If you're lucky enough to book your Dubai Marina sightseeing cruise in the evening, you will be lucky to witness a remarkable sunset.

Burj Al Arab: view from the sea
This package is great for lovers of adventures and speed! Going on the speedboat, enjoying the wind in your hair towards discovering an outstanding Burj Al Arab! The perfect combination of leisure and sports activities, as you can go diving in the open waters.
Additional Services
A boat tour in Dubai is an example of excellent luxurious services. You can combine sightseeing with a party, fishing, family event, or photoshoot. Some of our boats have a BBQ grill, DJs, and drinks for you to celebrate anything from an engagement to a birthday. It's also possible to rent sports equipment for those who love fishing and diving as there is no other better place for that!