According to https://cpa-partners.top/, over the past three months, the amount of sales in the travel industry increased by 42%. Partners such as cashback services, coupon sites, and blogs help the industry recover.
The gradual removal of restrictions is putting the travel industry back in the game. The hardest time for the travel industry was expectedly April-May, a period of complete border closure and strict self-isolation. Both the number and the amount of purchases decreased significantly. However, in June, the industry has recovered some of its former pace, and in summer showed the results, which were, of course, much lower than those of the previous year, but managed to reach the level of "pre-Covid" January and February.
Not only the rate of air ticket purchases is recovering, other segments of tourism are also growing. Taken together, they showed a 42% increase in sales in the last three months compared to August-October. Here are the results for the three major areas: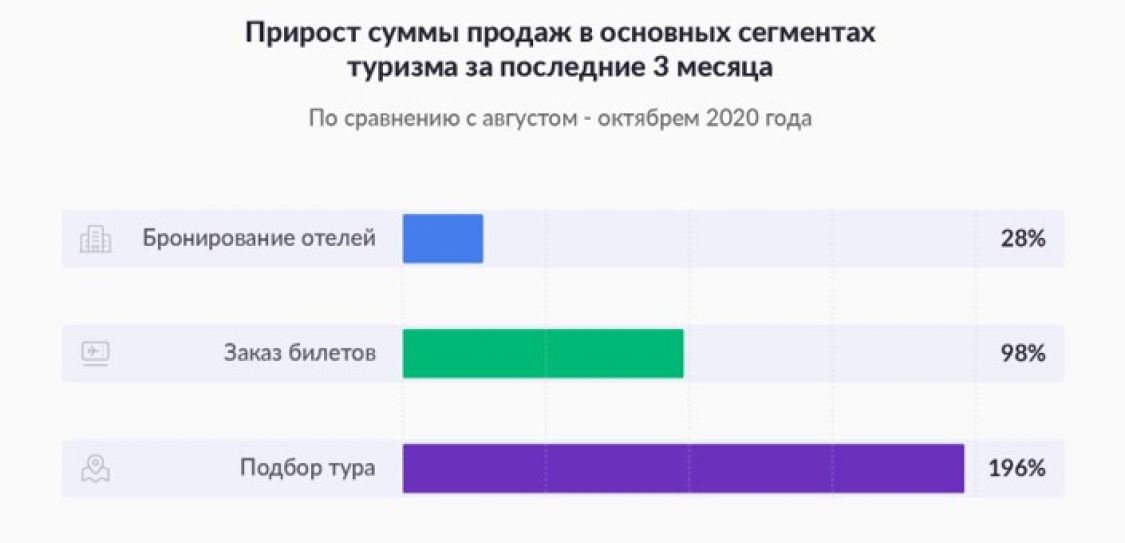 It is also worth to mention the big increase in mobile purchases in 2020. In hotel reservations, the share of mobile purchases reached 40.6%, which is 12.9% greater than in 2019. 28.1% of ticket orders were made by Russians from smartphones. But the biggest increase in mobile sales was in the selection of tours - by 16%. Thus, in 2020, 37.7% of tours were purchased from mobile devices.
Partner marketing helps the travel industry to survive the difficult period and restore sales. Companies in the industry have had to distribute marketing budgets very carefully, while desperately needing a steady flow of bookings. In such circumstances, the benefits of the CPA ("cost per action") model became clear:
1. Companies pay partners only for results - sales made. This allows to avoid risks and directly link marketing costs to the profits received, thus making their ratio positive for the business.
2. Attraction of sales from new traffic channels without risk to the budget and time expenditure of the advertising department staff. Affiliate marketing gives access to tens of thousands of webmasters from a variety of segments: cashback services and loyalty programs, targeting and contextual advertising specialists, bloggers, coupon sites, email-base owners, and many others work with brands.
3. Transparent analytics and predictable costs. In conditions of general uncertainty, CPA tool has become especially convenient, because its costs are easy to plan and monitor.